The Steps to Creating a Cozy Reading Nook at Home
Do you love to read, but don't always have the time or place to do so? If you're looking for a cozy reading nook at home, we've got the steps for you! Creating a space that is specifically designated for reading can be really beneficial. Not only will it make it easier for you to find time to read, but it can also help improve your concentration and focus. In this blog post, we will discuss the steps necessary to create your very own cozy reading nook!
Select a spot
The first step in creating your reading nook is to select the right spot for it. This could be anywhere from a quiet corner of your living room, to an unused corner of the bedroom, or even a window seat somewhere else in your house. It's important to select a place that is comfortable, inviting, and conducive to reading.
In addition, the choice of the spot should also be based on the amount of light you desire. Natural sunlight is essential for those who prefer to read outdoors, while others may want to select a spot that offers low lighting for a more intimate reading session. As long as you find the spot comfortable and inviting, you'll be on your way to creating a cozy reading nook.
Find comfortable furniture
Once you have chosen the spot for your reading nook, it's time to find the right furniture for it. A comfortable chair or even a bean bag can make for an excellent place to sit and read. If you have room, you could also opt for a small sofa or loveseat. Make sure to select furniture that is not only comfortable but also aesthetically pleasing so that it complements the rest of your decor.
On the other hand, if you prefer to read while lying down, then a daybed with lots of pillows and blankets might be the ideal option for you. For those with a large enough space, you could even go for an armchair or recliner. Getting the right furniture for your reading nook is essential to making it as cozy and inviting as possible.
Invest in folding shutters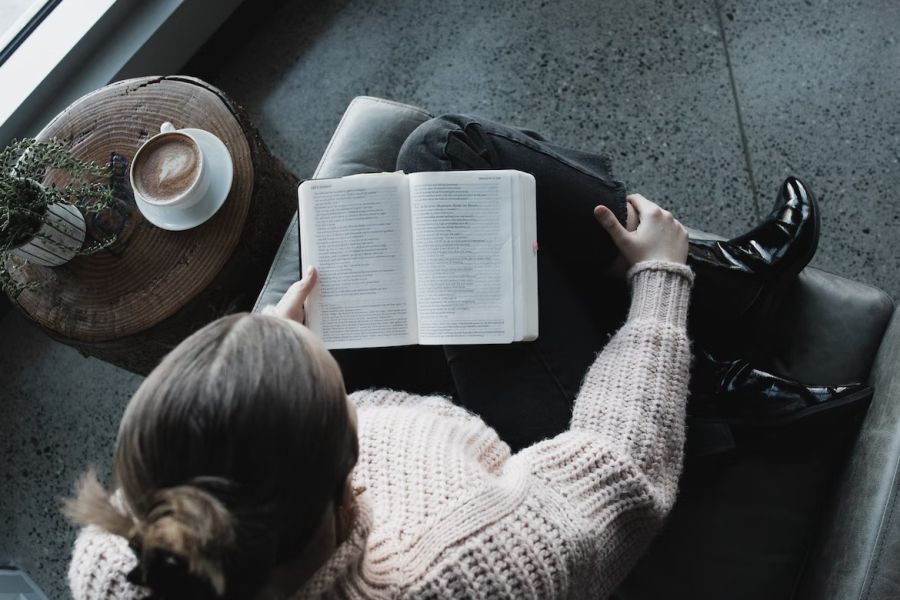 To ensure that your reading nook is as comfortable and inviting as possible, you should consider investing in some folding shutters or curtains. This will give you the privacy to read without any distractions from elsewhere in the house. Folding shutters for windows come in a variety of colors and styles, so it'll be easy to find one that fits with the overall design of your reading nook. In addition, these shutters can also help to block out any noise from the outside world, allowing you to really concentrate on your reading. Plus, if you choose a style with a blackout effect, it can even help keep the space dark when you need it.
Get the right lighting
The right kind of lighting is essential for a successful reading nook. You don't want to be straining your eyes when you are trying to concentrate on the words in front of you! A good way to ensure that your lighting is just right is to hang some fairy lights around the area or invest in a standing lamp with adjustable levels. This will help make sure that you won't have any trouble seeing the words on your page.
If your nook has a window, you may want to consider hanging some sheer curtains for softer lighting. This will help reduce any glare from the sun and make your reading environment more inviting. The goal is to create an atmosphere where you are comfortable and relaxed.
Make it comfortable
Creating a cozy and inviting atmosphere is key when it comes to making your reading nook enjoyable. Invest in some nice cushions and rugs to make it as comfortable as possible. Soft lighting, a scented candle, and some tranquil music can also help you relax and enjoy your reading session.
You can add more personal touches by purchasing some bookends or a bookshelf to house all your beloved reads. A few plants scattered around the area can also help add to the ambiance and make it look more inviting. Before you know it, you will have created the ultimate cozy reading nook!
Creating a cozy and comfortable reading area at home can be an excellent way to enjoy a good book. With just a few simple steps, you can create your very own perfect retreat for relaxation and enjoyment. Feel free to experiment with different styles and color palettes to make it as inviting and cozy as possible. With the right spot, furniture, lighting, accessories, and personal touches, you can create a special place for peaceful reading!