Tee Off in Style: Sunday Golf Bag for Effortless Outdoor Escapes
The game of golf, once primarily seen as a pastime of the elite, has become an outdoor escape for many.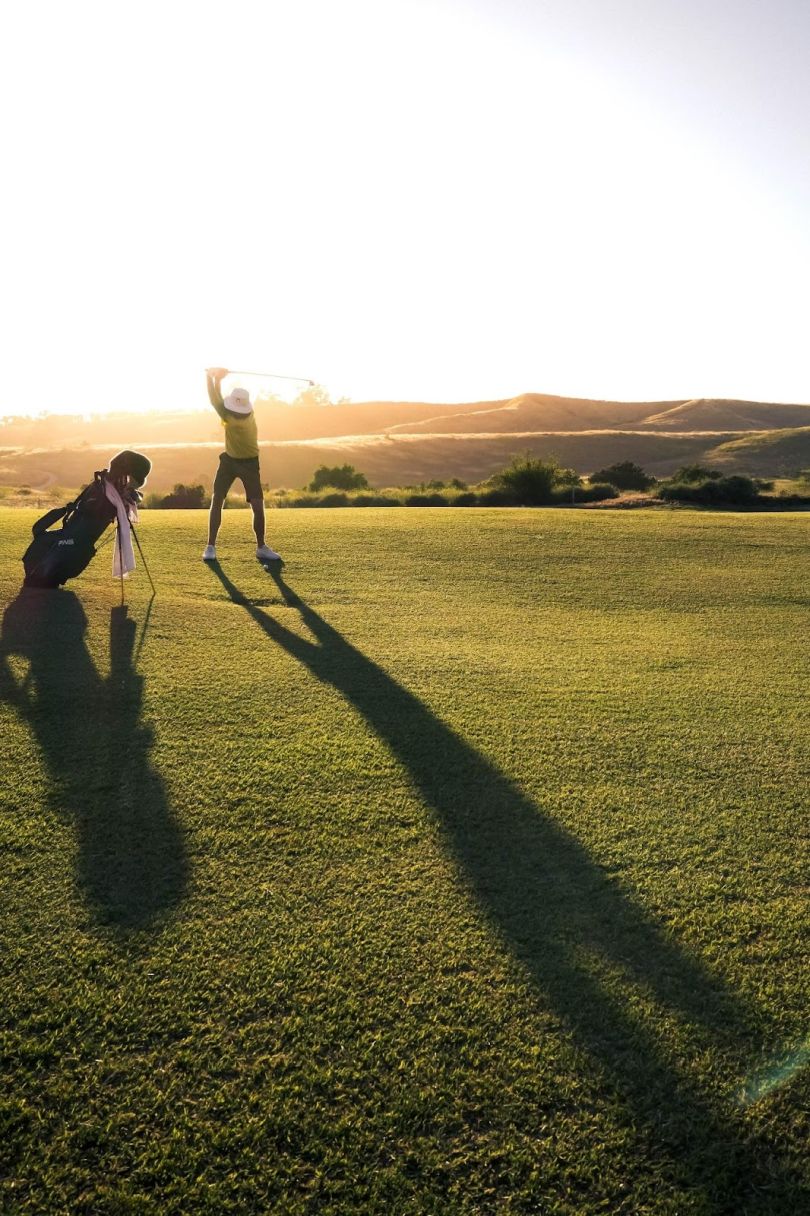 As people increasingly seek activities that allow for social distancing, while still offering engagement and challenge, golf emerges as a top choice. Central to the golfer's experience, however, is the equipment, and at the heart of that equipment is the golf bag.
The Sunday golf bag, in particular, has become a favorite for many casual and experienced players alike. This article delves into the Sunday golf bag, exploring its unique features and benefits, and how it can amplify your golf experience.
What is a Sunday Golf Bag?
Ah, the Sunday golf bag. It may sound like a niche product to some, but to the avid golfer, it's a nod to tradition, simplicity, and the sheer love of the game. Before we delve into its history and features, it's essential to understand the ethos behind this bag.
Unlike the regular golf bag that's designed to cater to every possible need on the golf course, the Sunday version is a pared-down alternative. It's for those rounds where you want to connect more intimately with the game, feel the weight of only the most crucial clubs on your back, and relish in the simplicity that golf originally offered.
There are some of the leaders in the industry but the wholesomeness and the distinct point of this bag is in its simplicity. This bag, in its essence, encapsulates the purest form of golf.
A Brief History
The name "Sunday golf bag" stems from a time when caddies had Sundays off. Golfers needed a lightweight, more compact bag to carry themselves on the course. Over time, this simpler bag became known as the "Sunday Bag".
Features and Design
Unlike the traditional golf bag, the Sunday golf bag is lighter, often slimmer, and designed for carrying only essential clubs. They're made with simplicity in mind and emphasize functionality over flashy designs.
Benefits of Using a Sunday Golf Bag
Choosing a Sunday golf bag isn't just about embracing a piece of golf's history; it's about optimizing your experience on the green.
These bags, although minimalist in nature, offer a slew of advantages tailored to make your golf rounds smoother, more focused, and more enjoyable. Sunday golf bag offers distinct advantages that can elevate your game and enjoyment. Here's a closer look at these perks.
Lightweight for Easy Carrying
One of the most notable features of the Sunday golf bag is its weight. For golfers who prefer walking the course, this bag provides minimal strain, making it ideal for those who wish to combine exercise with their game.
Minimalism Promotes Skill Honing
With fewer club choices, golfers are often encouraged to be more versatile and creative in their shots, enhancing their skills in the process.
Perfect for Short Courses
Not every round of golf needs to be an 18-hole endeavor. For shorter courses or practice ranges, the Sunday Bag is the perfect companion, eliminating the hassle of lugging around a heavier, bulkier bag.
Styling Tips for the Fashion-Conscious Golfer
The golf course is not just a place for sport; it's also a stage for personal expression. Over the decades, golf attire has evolved significantly, with players keenly showcasing their personality through their choice of apparel and gear.
The Sunday golf bag, with its minimalist appeal, can be a stylish accessory in its own right, complementing your overall look on the greens. For those who appreciate the blend of functionality and fashion, dressing up (or down) your Sunday Bag can add a fresh dimension to your golf ensemble.
Here's how you can marry style and substance, ensuring that every step you take on the course is as stylish as your swing.
Pairing with Golf Attire
While functionality is vital, style is paramount for many on the course. Tips for matching your Sunday Bag with your attire can include coordinating colors, themes, or even customizing your bag to reflect personal flair.
Personalizing Your Sunday Bag
From monograms to custom fabrics, personalizing your Sunday golf bag can be a way to stand out on the course and show off your unique style.
Caring for Your Sunday Golf Bag
Like any cherished possession, your Sunday golf bag deserves tender loving care. Whether it's faced the wrath of a muddy course or been grazed by branches during a woodland shortcut, regular maintenance ensures that your bag remains as pristine as the day you first laid eyes on it.
Not only does proper care maintain its aesthetic appeal, but it also extends its lifespan, ensuring that it remains a trusty companion during countless games. Here are some tried-and-tested methods to keep your bag in tip-top shape, so that it continues to complement both your game and your style for years to come.
Cleaning and Maintenance
To keep your bag looking its best and functioning well, it's crucial to clean it regularly. This section can offer step-by-step guidance on cleaning both the exterior and interior of your bag.
Storing Properly
Storage can play a pivotal role in the longevity of your bag. Tips for ideal storage conditions, including keeping it dry and away from direct sunlight, can ensure your Sunday Bag remains in top condition for years.
Top Sunday Golf Bag Brands to Consider
In the realm of Sunday golf bags, several brands stand out due to their innovation, quality, and dedication to the golfer's needs.
These brands have successfully combined aesthetics, functionality, and durability, offering products that resonate with both amateur and professional players. Let's take a closer look at three such prominent brands that have made significant strides in this niche market.
Ranger Carry Bag
The Ranger bag isn't just a mere golf accessory; it's a statement of versatility and function. Offering a blend of simplicity and multifunctionality, this bag is ideal for a range of golfing scenarios, whether it's a practice session or a laid-back game.
Key Features:
Functionality: Designed for various purposes, be it range practice, travel, or carrying up to 9 clubs.
Protection: Features like a padded top, rigid body, and molded base ensure that your clubs are protected, especially during travel.
Weight & Convenience: Weighing just under 3.5 lbs, the Ranger proves to be an excellent companion for weekend getaways or relaxed rounds on the course.
Callaway Golf 2020 Hyperlite Zero
When one thinks of innovative golf equipment, Callaway often springs to mind. Their 2020 Hyperlite Zero is a testament to their dedication to producing top-tier golf gear, blending ultra-lightweight design with durability.
Key Features:
Lightweight Design: Touted as Callaway's lightest stand bag, it weighs in at less than 3 lbs, making it perfect for those who prioritize weight.
Durability: Made with durable ripstop fabric and larger zippers, ensuring longevity.
Comfort & Organization: Features like the Padded OptiFit Comfort Strap and self-balancing X-Act Fit Strap System guarantee comfort, while the lightweight 4-way top with full-length dividers provides organization.
Additional Features: Comes with a valuable pocket, tee pocket, and an individual cell phone sleeve among its 7 pockets.
Sunday Golf
With a name synonymous with the very essence of a Sunday golf bag, this brand truly embodies the spirit of the minimalist golfer. Their bags, especially the Sunday stand bag, are designed for lightness, convenience, and style.
Key Features:
Unparalleled Lightness: The standout feature is its weight. At 1.95 pounds, it's touted as the lightest Sunday stand bag in the market, accommodating 6-7 clubs comfortably.
Valuables Pocket: Comes with a specially designed pocket lined with velour, ensuring that valuables like wallets, phones, and keys are safe.
Ideal for Practice: This bag's design makes it the go-to choice for driving range practice, allowing golfers to carry just the essentials.
Convenience: Features like a built-in carry handle and strap add to the bag's usability, making it a preferred choice for many.
Choosing the right Sunday golf bag depends on one's specific needs, whether it's weight, style, or additional features. These three brands, with their distinctive offerings, ensure that golfers are spoiled for choice when picking the perfect bag for their Sunday escapades.
Conclusion
Whether you're an experienced golfer or someone new to the sport, a Sunday golf bag can revolutionize your playing experience. It's not just about carrying your clubs; it's about merging style, functionality, and tradition into one seamless package.
Next time you're preparing to hit the greens, consider teeing off in style with a Sunday golf bag, the perfect companion for your outdoor escape.