Europe's Best Beach Getaways: Sun, Sand, and Serenity
When it comes to beach vacations, Europe offers a diverse array of stunning coastal destinations that cater to every type of traveler. From the azure waters of the Mediterranean to the wild, rugged shores of the Atlantic, Europe's beach getaways are renowned for their sun-soaked beauty and unparalleled serenity. In this article, we'll explore some of Europe's best beach destinations, each with its own unique charm and allure.
1. The Amalfi Coast, Italy: A Mediterranean Paradise
The Amalfi Coast, located in southern Italy, is often described as a Mediterranean paradise. With its dramatic cliffs, picturesque towns, and crystal-clear waters, it's no wonder this destination has enchanted travelers for centuries. Notable towns along the coast include Positano, Amalfi, and Ravello, each offering its own brand of Italian charm.
Airbnb is a popular option for travelers looking for an authentic Italian home away from home. Whichever accommodation you choose, make sure it fits your style and budget. Plus, be sure to research the neighborhood to ensure that you're located in a safe area with easy access to necessary amenities. Planning ahead will help ensure that your stay in Italy is as pleasant and relaxing as possible. However, if you want to enjoy your accommodation then book a cruise at p&o arvia, and have the time of your life this vacation.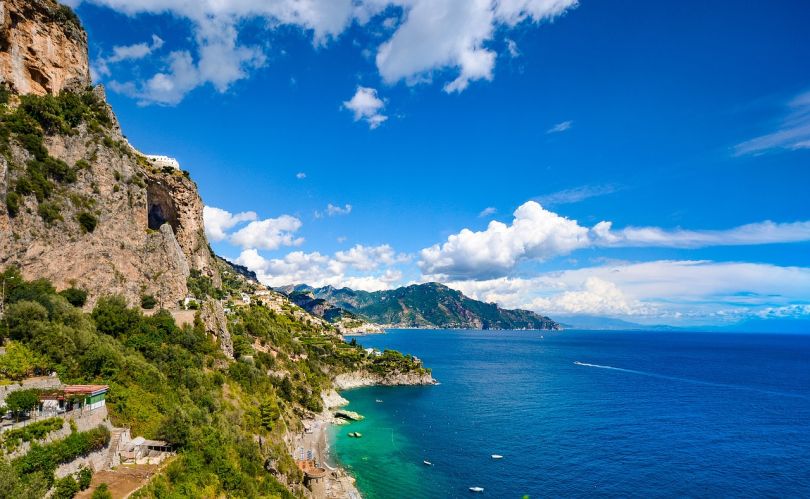 2. Santorini, Greece: Whitewashed Bliss
Santorini, a Greek island in the Aegean Sea, is famous for its breathtaking sunsets, iconic whitewashed buildings, and crystal-clear waters. The island's unique topography, with its dramatic cliffs and volcanic beaches, creates a surreal landscape that's perfect for relaxation and exploration.
3. Cabo da Roca, Portugal: Rugged Beauty on the Edge of Europe
Cabo da Roca, located in Portugal, is not your typical beach destination, but it offers a unique and rugged beauty that's well worth exploring. As the westernmost point of continental Europe, Cabo da Roca boasts dramatic cliffs that plunge into the Atlantic Ocean, creating a breathtaking backdrop for your beach getaway. While you won't find sprawling sandy shores here, the raw and untamed coastline is perfect for those who seek solitude and a connection with nature. Explore the rugged trails, breathe in the crisp ocean air, and witness some of the most awe-inspiring sunsets you'll ever encounter. Cabo da Roca is a destination for contemplation and exploration, offering a serene escape from the more crowded European beaches.
4. Dubrovnik, Croatia: The Pearl of the Adriatic
Dubrovnik, often called the "Pearl of the Adriatic," is a historic city on Croatia's Dalmatian Coast. With its well-preserved medieval walls, charming old town, and inviting beaches, Dubrovnik combines history and beach relaxation in a unique way.
5. The French Riviera: Glamour and Beauty
The French Riviera, or Côte d'Azur, is synonymous with glamour, luxury, and stunning Mediterranean beaches. From the glitzy city of Nice to the artistic enclave of Saint-Paul-de-Vence, this region offers a diverse range of experiences, all set against the backdrop of the dazzling Mediterranean Sea.
6. Ibiza, Spain: Party and Play
Ibiza is not only famous for its vibrant nightlife but also for its beautiful beaches. This Balearic Island offers a mix of energetic beach clubs and tranquil coves, making it an ideal destination for those seeking both excitement and relaxation. Spend your days lounging on the soft sands of Ses Salines Beach, known for its crystal-clear waters and lively atmosphere, or escape to the more secluded Cala Conta, where the stunning sunsets are legendary. Ibiza's beaches cater to various tastes, and whether you're into water sports, sunbathing, or beachside cocktails, you'll find your perfect spot on this Mediterranean gem.
7. Cinque Terre, Italy: Cliffside Beauty
Cinque Terre, a collection of five colorful cliffside villages in northern Italy, is a UNESCO World Heritage Site. Visitors can explore the stunning landscapes, hike along the scenic trails, and enjoy the charm of these picturesque villages that hug the Ligurian coastline.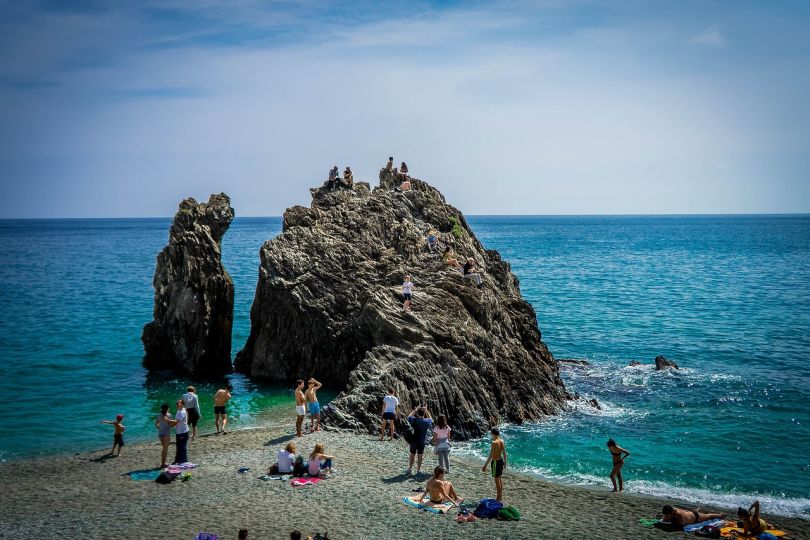 8. Mykonos, Greece: Where Parties Meet Paradise
Mykonos is known for its lively party scene, but it also offers some of Greece's most captivating beaches. With their turquoise waters and white sands, places like Paradise Beach and Super Paradise Beach provide a perfect escape from the island's nightlife.
9. The Algarve, Portugal: Golden Beaches and Hidden Coves
Swap the dramatic cliffs of the Amalfi Coast for the golden sands of Portugal's Algarve region. This southern paradise is renowned for its pristine beaches, ranging from vast stretches of sand to intimate hidden coves. Whether you prefer the lively atmosphere of Albufeira's Praia dos Pescadores or the tranquility of Lagos' Praia Dona Ana, the Algarve offers a diverse range of coastal experiences. Don't miss the chance to explore Benagil Cave, a mesmerizing sea cave known for its captivating natural beauty. With its pleasant climate and welcoming locals, the Algarve is a top European destination for sun, sand, and serenity.
In conclusion, Europe's beach getaways are a diverse and enticing collection of destinations, each offering its own unique blend of natural beauty, culture, and relaxation. Whether you seek the romance of Santorini, the party atmosphere of Ibiza, or the historical charm of Dubrovnik, Europe's coastline has something to offer every beach lover. So, pack your sunscreen, embrace the sea breeze, and embark on a sun-soaked European adventure you'll cherish forever.