Exquisite Ornamental Tattoos by Adrianna Sak
Every year, the tattoo talent pool grows infinitely more diverse and getting a tattoo whether you're just starting out, or even if you're totally covered in ink, can be a challenge. To make your choice easier, we're bringing you the best tattoo artists and ink inspiration from around the world with the scroll of a thumb. From New York to São Paulo, Istanbul or Göteborg, we promise you a unique ink trip that shouldn't end with anything less than an exceptional tattoo. It's time to make a visit in Poznań, Poland to meet Adrianna Sak and discover her well-crafted ornamental tattoos.
Adriana Sak creates exquisite ornamental tattoos
The European tattoo scene has always been popular and Poland makes no exception. Home to dozens of skilled tattoo artists, Poland has known a spectacular explosion of the tattoo art with styles that range from the American Traditional tattoo to minimalism, and vivid watercolor depictions to photorealism in black-and-grey.
If you're looking for an intricate ornamental ink piece to add a touch of femininity to your body, meet Adrianna Sak. Based in Poznań, Poland, Adrianna is known online as @adria.tattoo. She describes her style as "mainly focused on graphic designs based on lines and dots". Her decorative and ornamental patterns often include filigree and botanical elements, as well as jewels and gems. Often created with a freehand, Adrianna's tattoos are beautiful, artistic and very attractive.
Adrianna has kindly agreed to answer a few of our questions about how she got into tattoo industry, what artists inspire her and how the Eastern European tattoo scene is bigger than ever.
What made you get into tattooing?
Well, I would say that it was a coincidence – or maybe a destiny…? I have always just liked tattoos and drawing as an art-form, but I did not consider these fields in the manner of a potential profession.
Where did you learn how to tattoo? Do you have an artistic background or you're self-taught?
I wanted to have next tattoo on myself, so I arranged a visit and went to the studio with my own mandala project drawings. The tattooer, to whom I was arranged, looked through the drawings and asked if I did not want to start my adventure with tattoos on a "next level". After a quick thought, I agreed. A few days later I received a basic instructions and training from him, I ordered equipment and started to practice at home. After a few weeks of learning the technique on artificial skins, I switched to people, and half a year later I was already working in a tattoo studio. I do not have artistic education but I am lucky that my mother is a painter, so I guess talent is simply passed down from generation to generation ? Although I am self-taught, I really like to share my knowledge with apprentices in our studio.
What's the first tattoo you did on someone?
The first tattoo I made was a mandala. Not an easy pattern for a beginner, don`t you think?
What was the first tattoo you had done on yourself and by whom?
I had my first tattoo at the age of 15 (with approval of my parents), it was an inscription. I still do not regret this decision. The tattoo was made by a tattoo artist in my city
Who is your favorite tattoo artist of all time?
It is hard to choose one artist. For many years I am following and look deeper on Coen Mitchell, Kirk Edward Nilsen and Dotstolines works.



What is your favorite part of being a tattoo artist?
Generally speaking, every part of being a tattoo artist is important to me. I like literally everything about it, it is my passion, hobby, way of life and work. However, the most important thing is the satisfaction of the work done and the satisfied customer. I know that every day I am becoming a part of someone's life.
What advice would you give someone who is going to get their first tattoo?
Every person who wants to have a tattoo should think about it in wide aspect. I think it is crucial to choose the right tattoo artist – then satisfaction is guaranteed. It is important to choose the tattoo artist, who works in a style that we are about to go in. A good artist should advise and consider each project in the wide view, so that the customer will get out of the studio pleased with a tattoo  that he won't regret. And believe me – it is not worth saving on this!
Currently, you are located in Poland. It seems that body art has flourished throughout Eastern Europe in recent years. What's your take on the tattoo medium in that part of the world?
Indeed, the art of tattooing has been developing rapidly in recent years. Good equipment and the growing experience of artists have made tattoos a real art these days. There are many excellent artists in Eastern Europe known around the world. People here really love tattoos and are happy to set their bodies apart in various styles. We are slowly leaving the time when tattoos had negative associations, but it still sometimes happens that having tattoos is frowned upon in some professions.
In my work I am trying to fight a little this limitations – my customers are people of age from 18 to 60 +, they are doctors, teachers, policemen, firefighters and office workers… There are also many events and tattoo convents in near cities in which I take part.
What styles of tattoos are most popular there?
I think that all styles are popular in Poland, we have many great artists specializing in various techniques. From realism to abstractions, minimalism, ornamental, tribal tattoos and others. Everyone will find what they're looking.
How can people get in touch with you?
You can contact me via the Facebook or Instagram. I have to admit, that unfortunately I rarely visit my email box. Of course it is also possible to call directly to the studio where I work.
Awesome ornamental tattoos created by Adrianna Sak
With high quality line-work and clear dedication to create unique and beautiful patterns for each individual body, Adrianna is definitely worth keeping an eye on. Scroll down to see some awesome ornamental tattoos, the perfect way to add a touch of femininity to your body.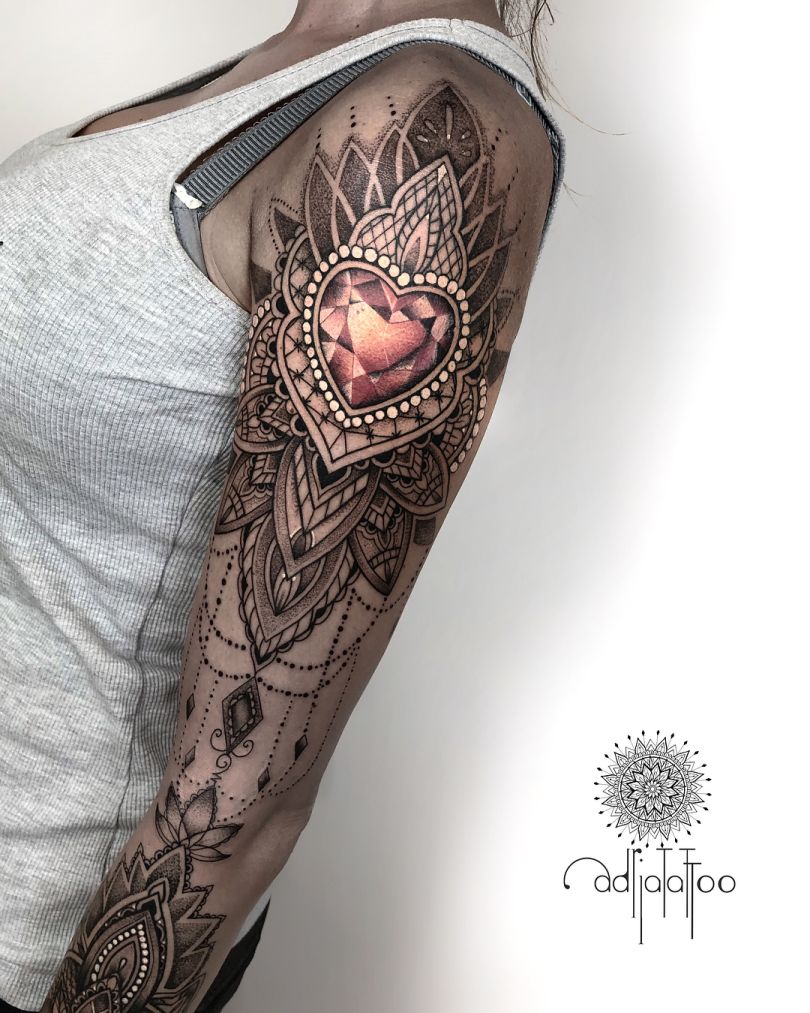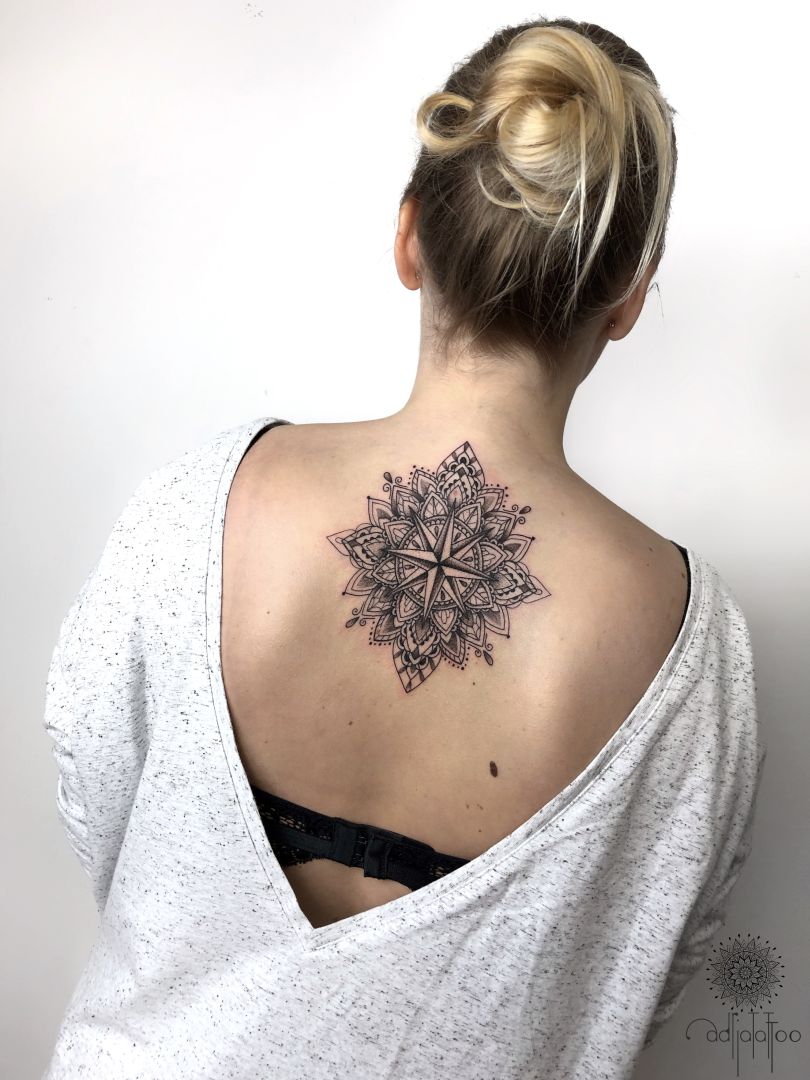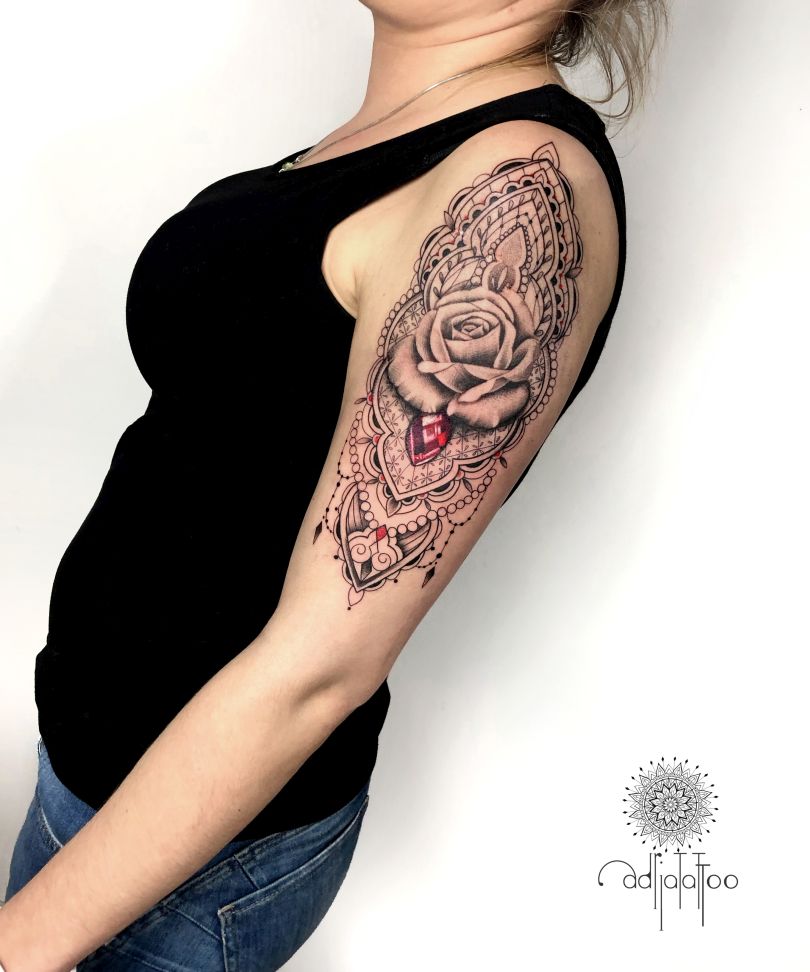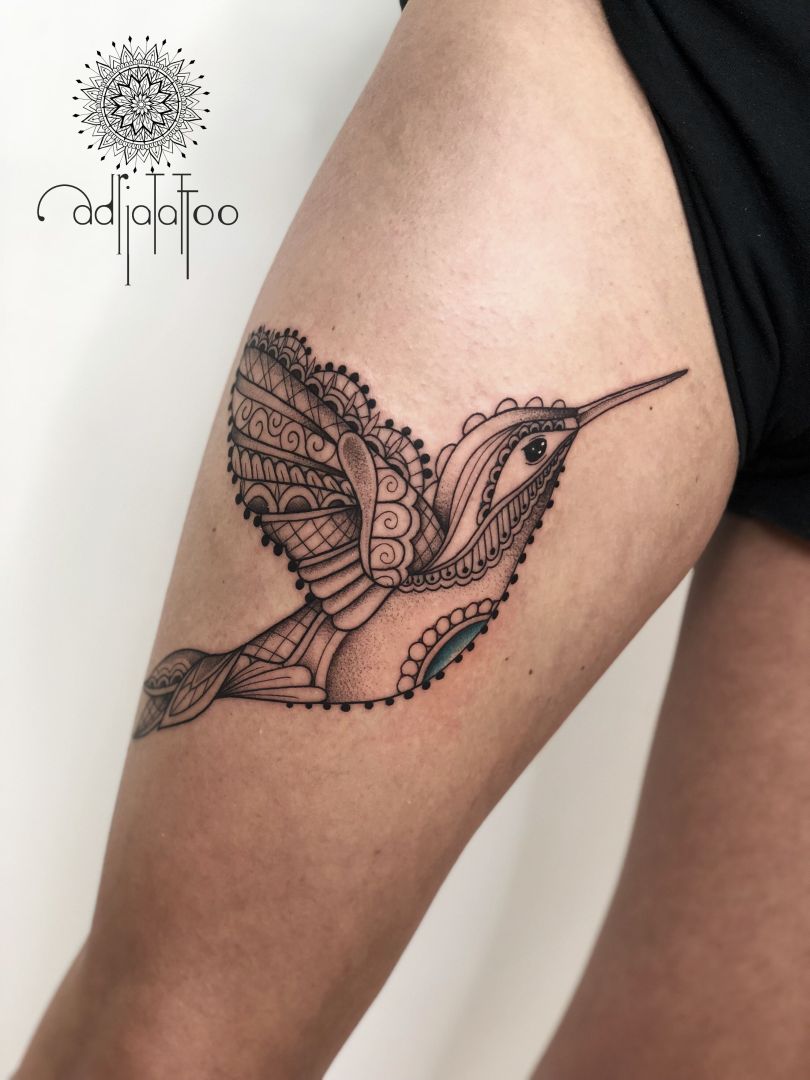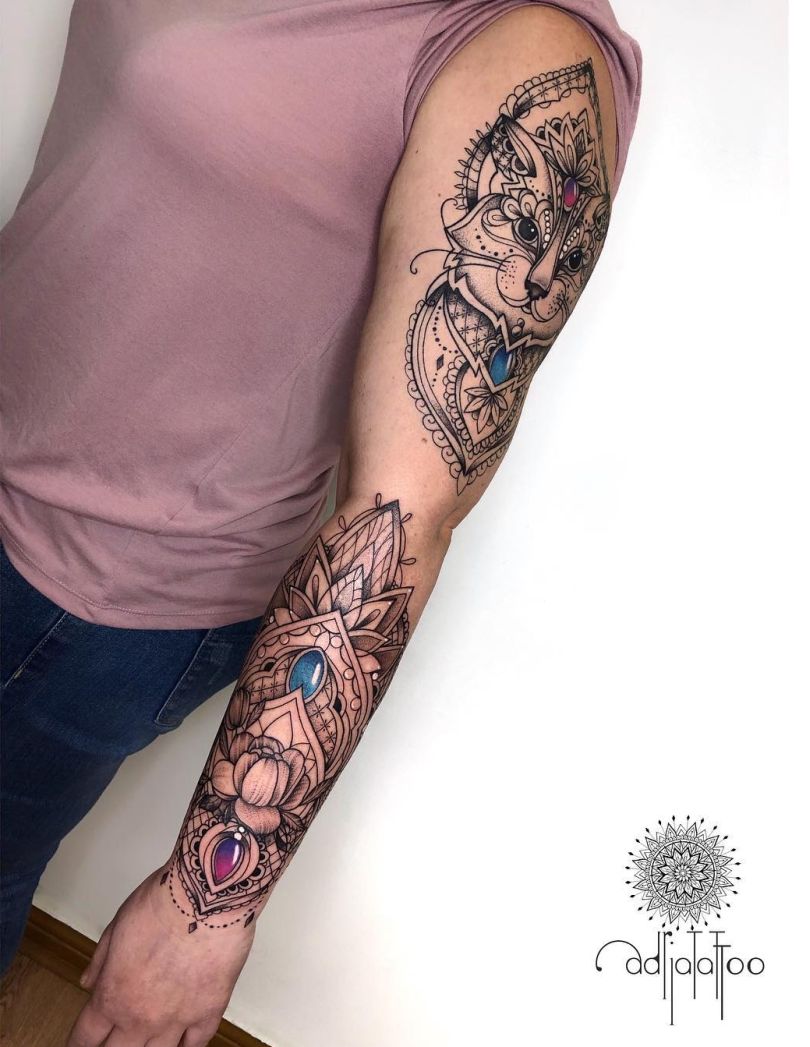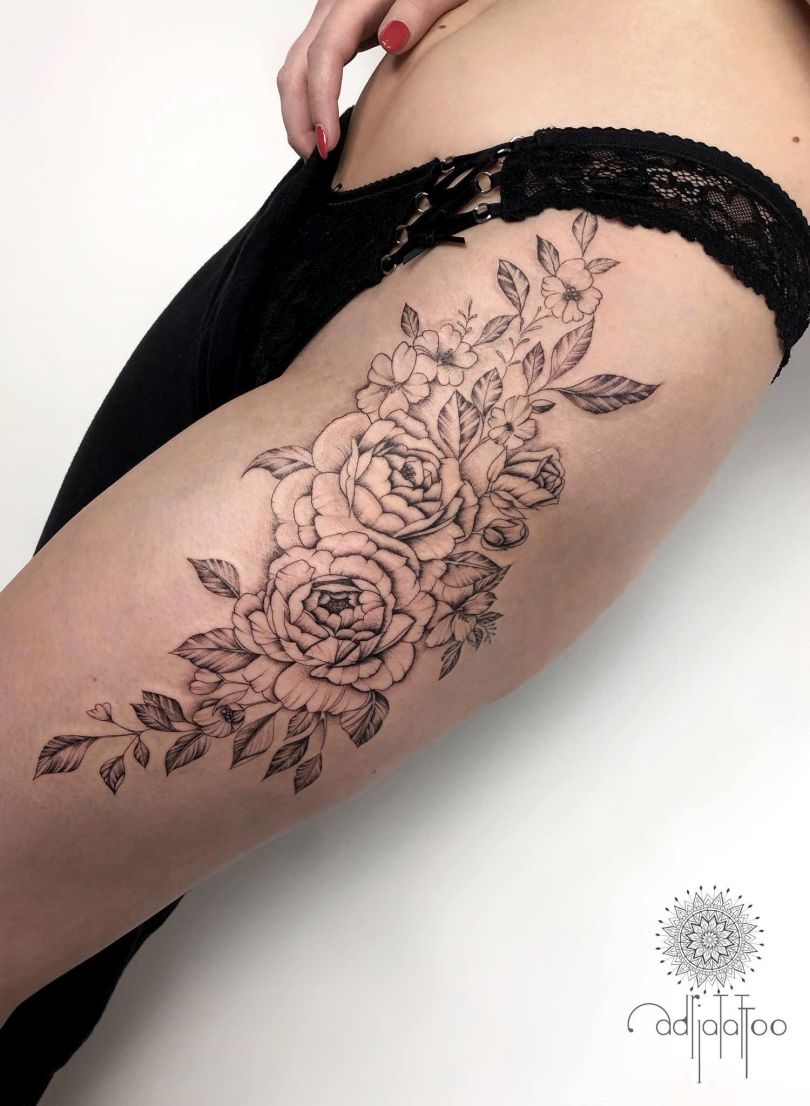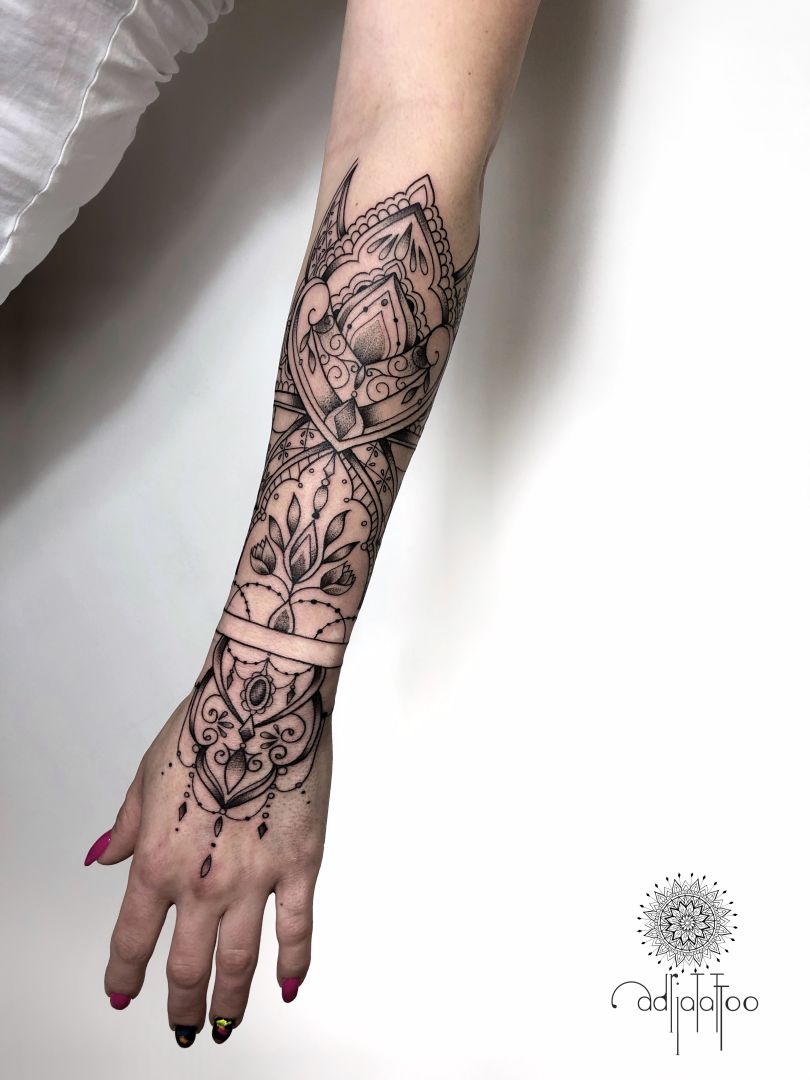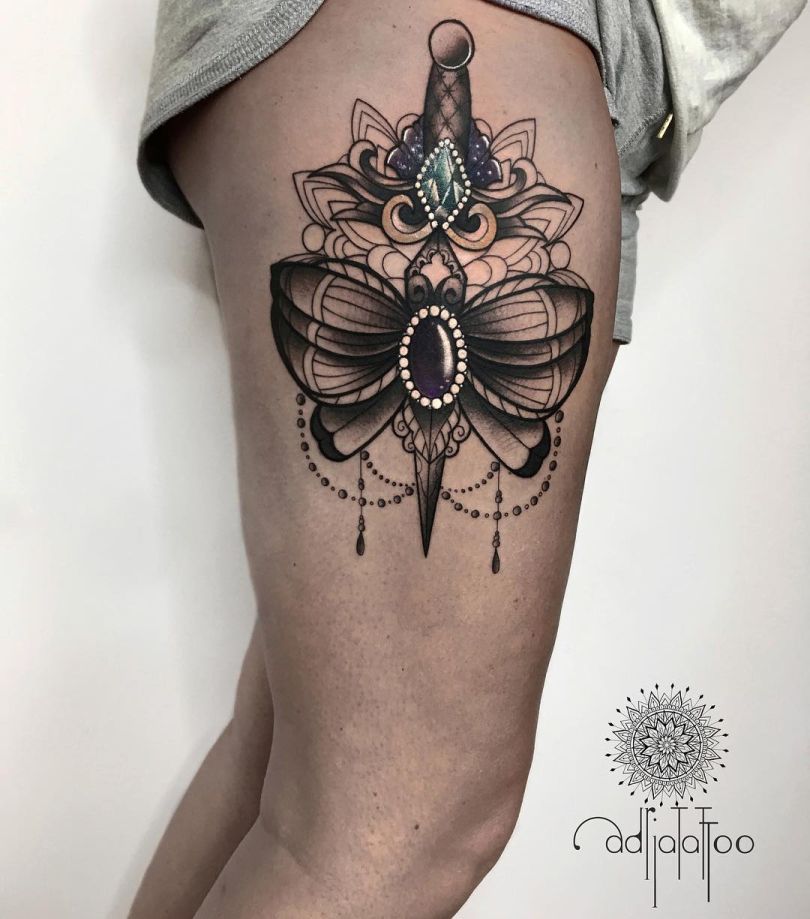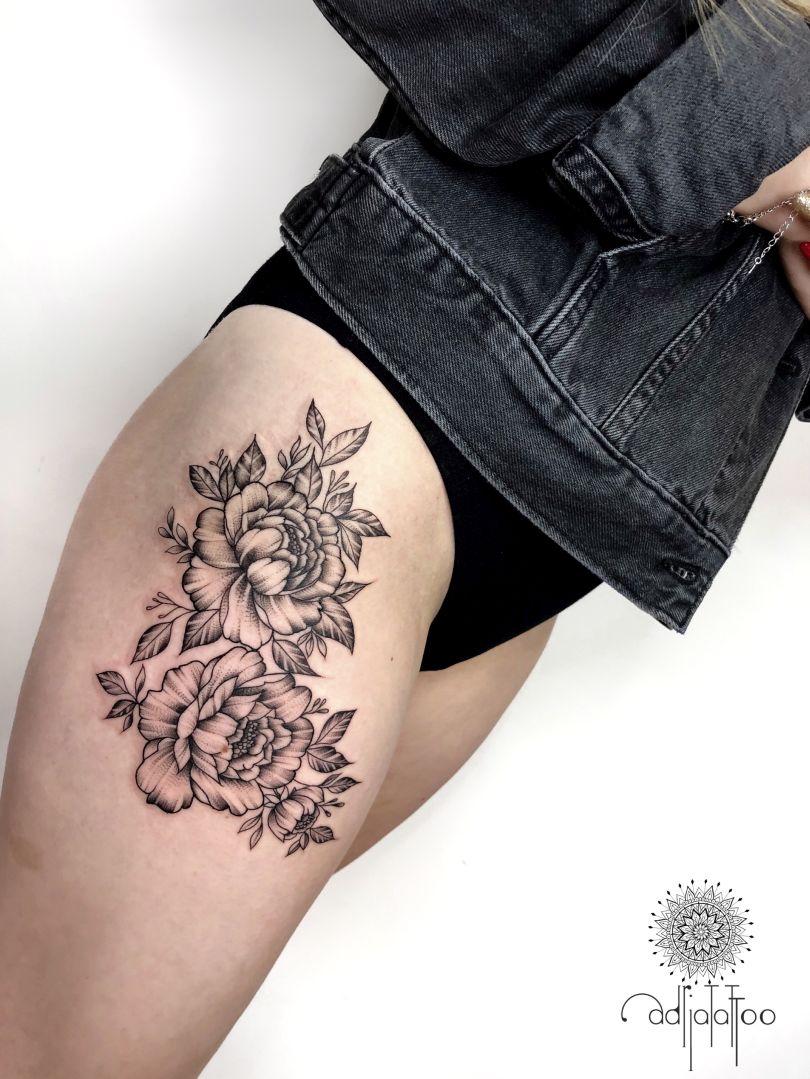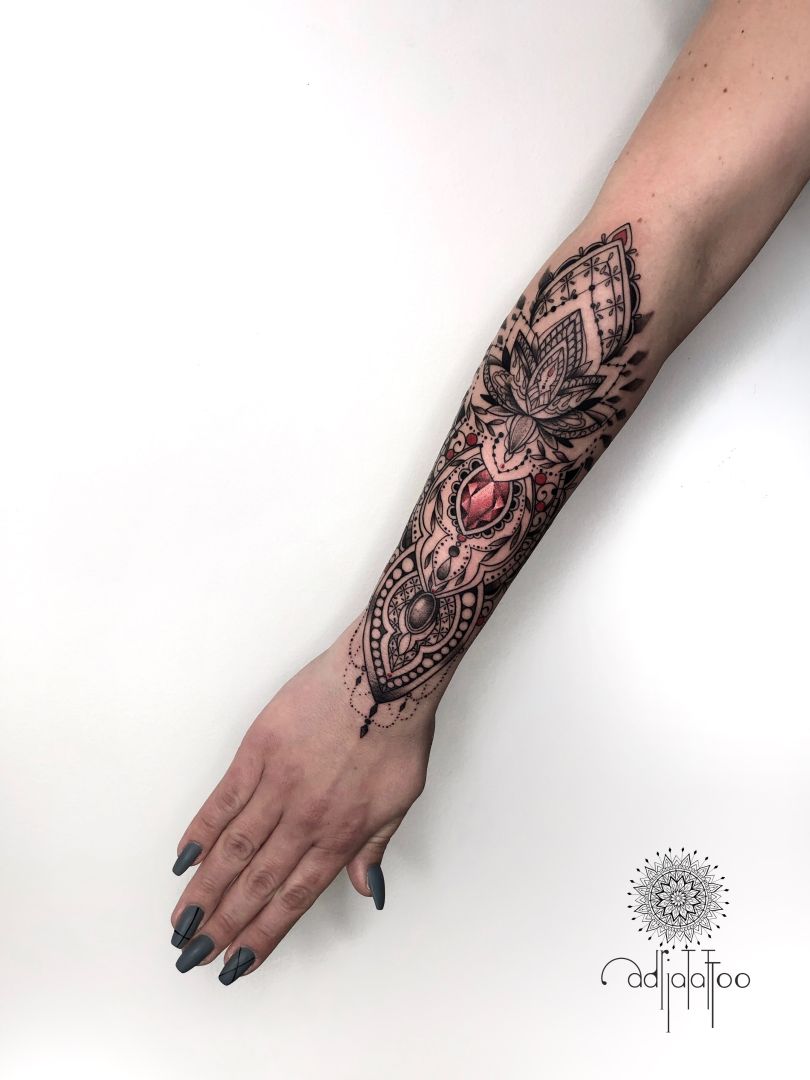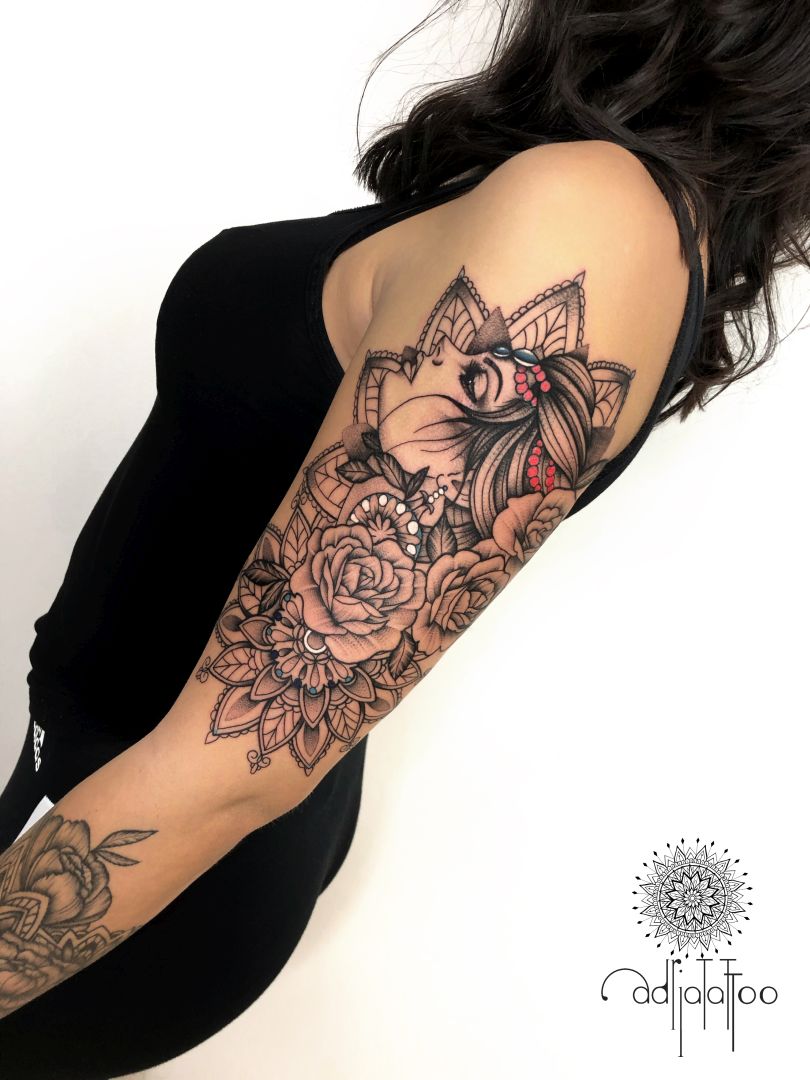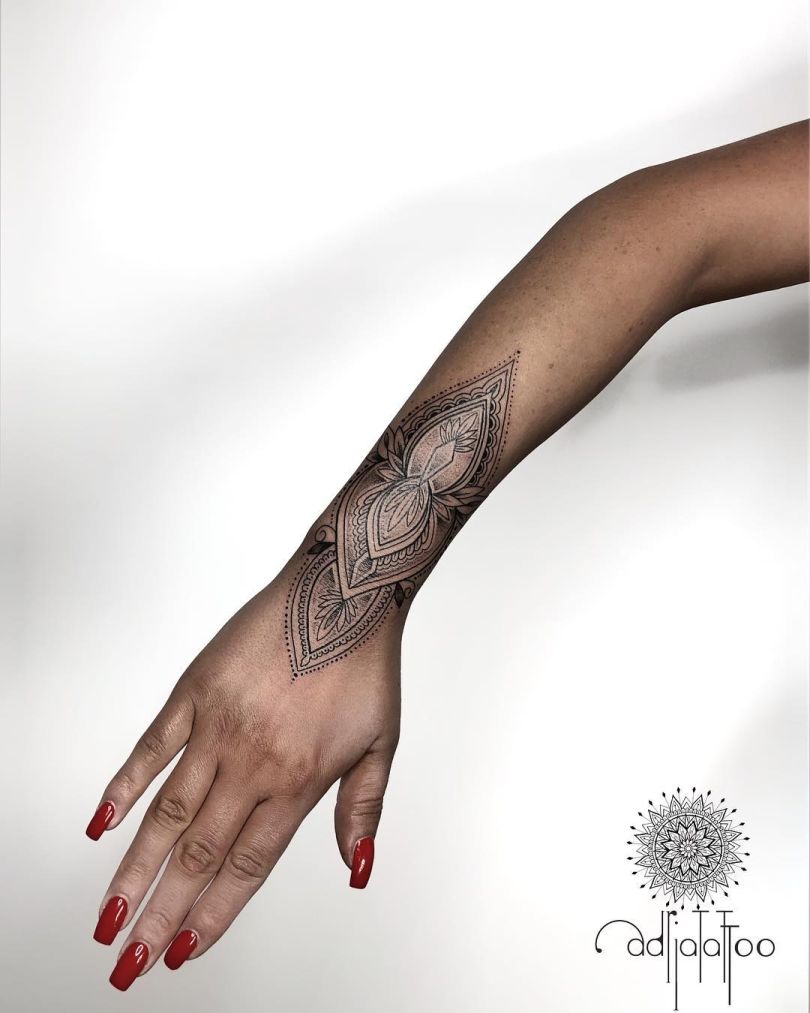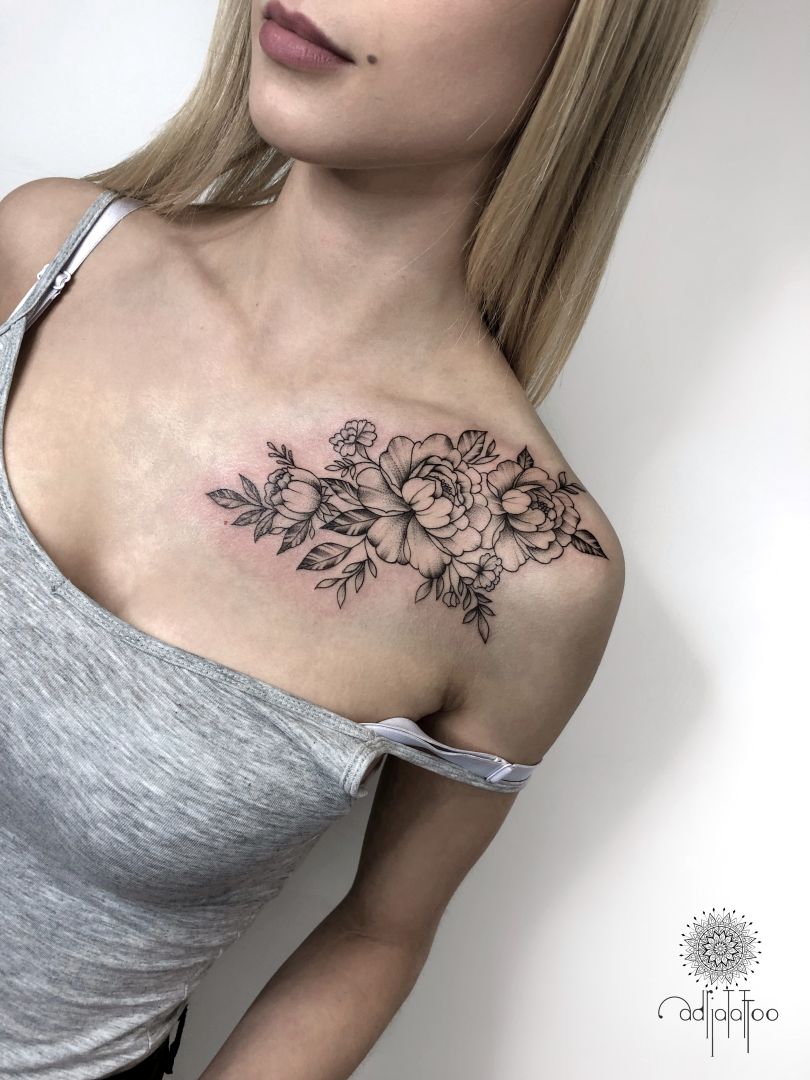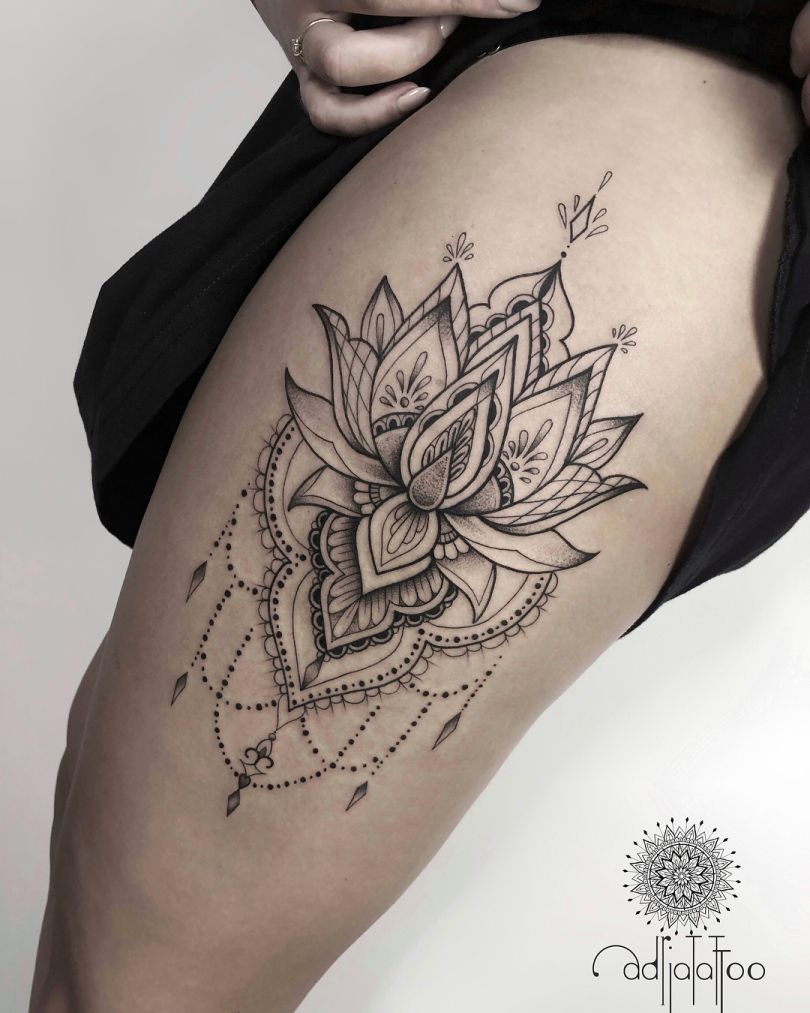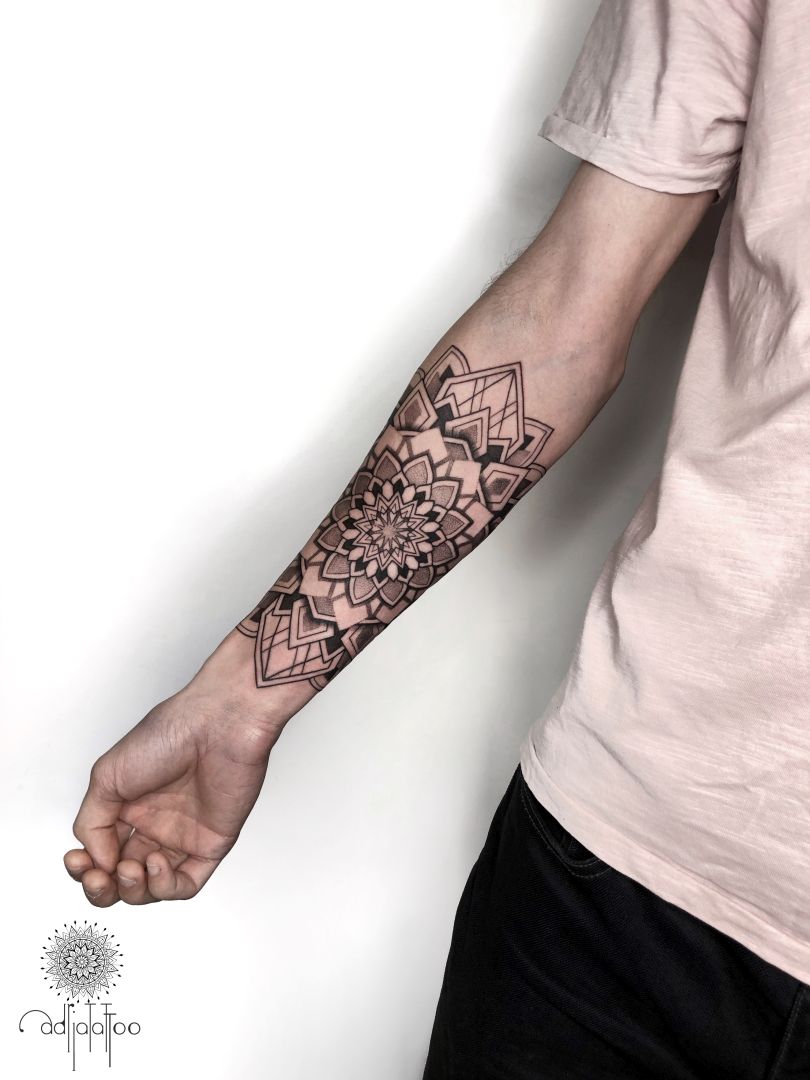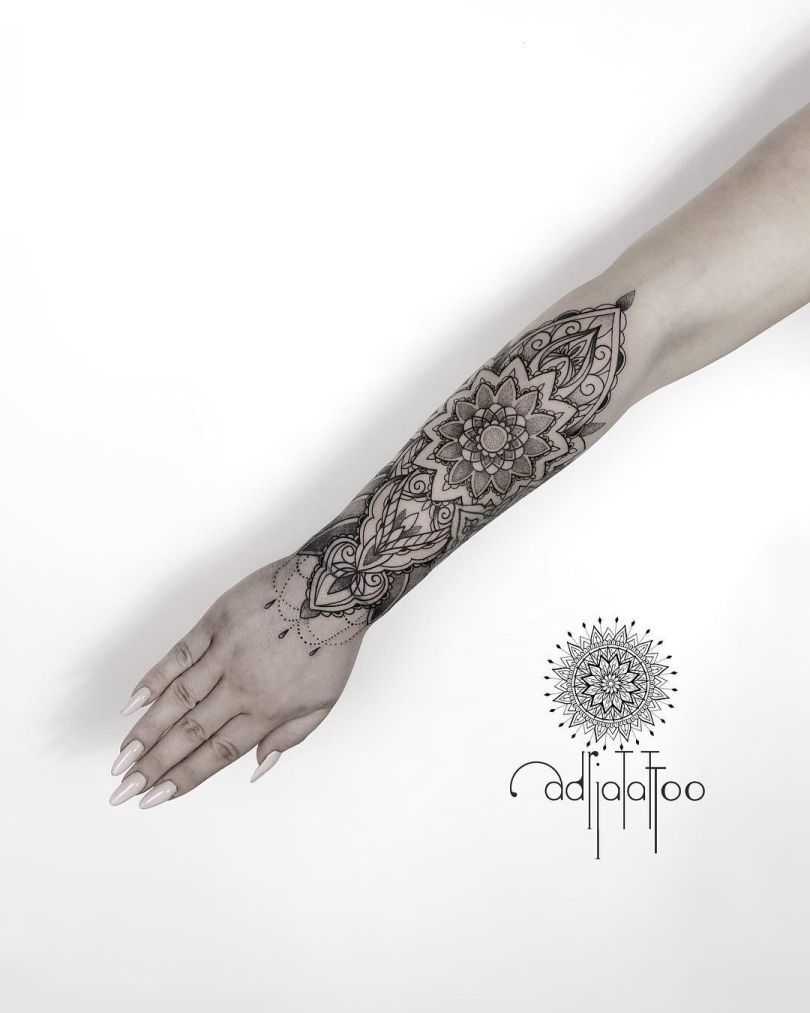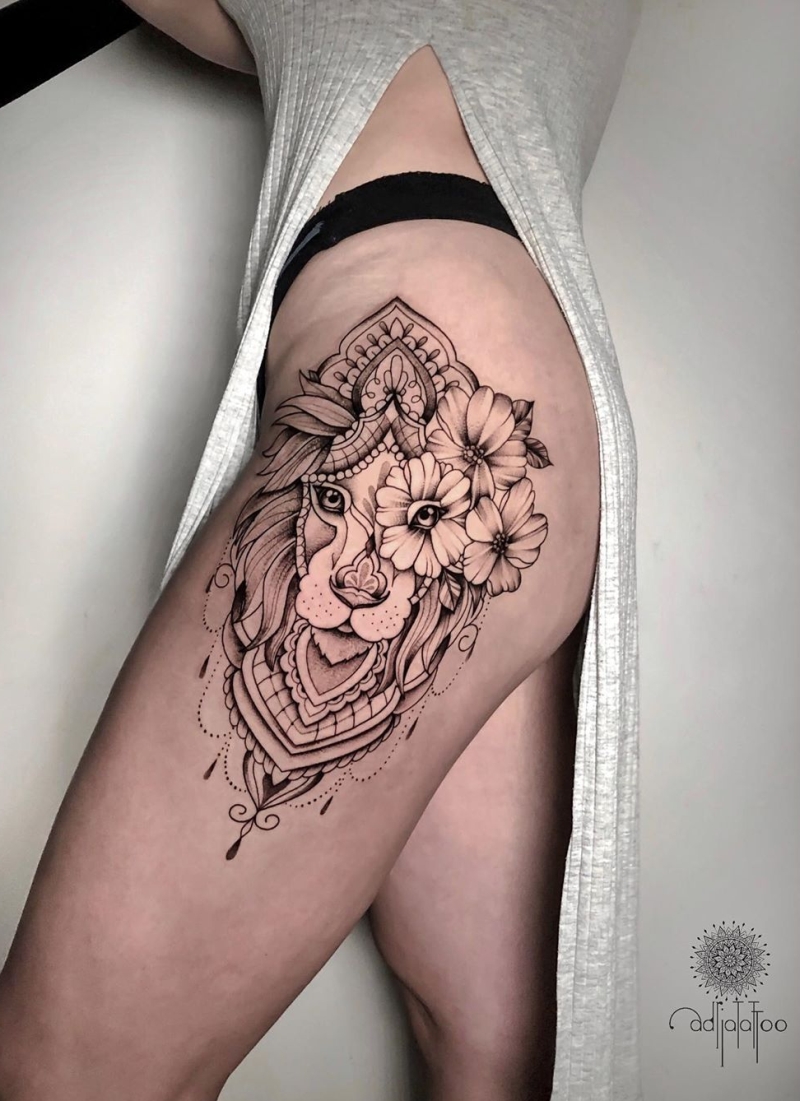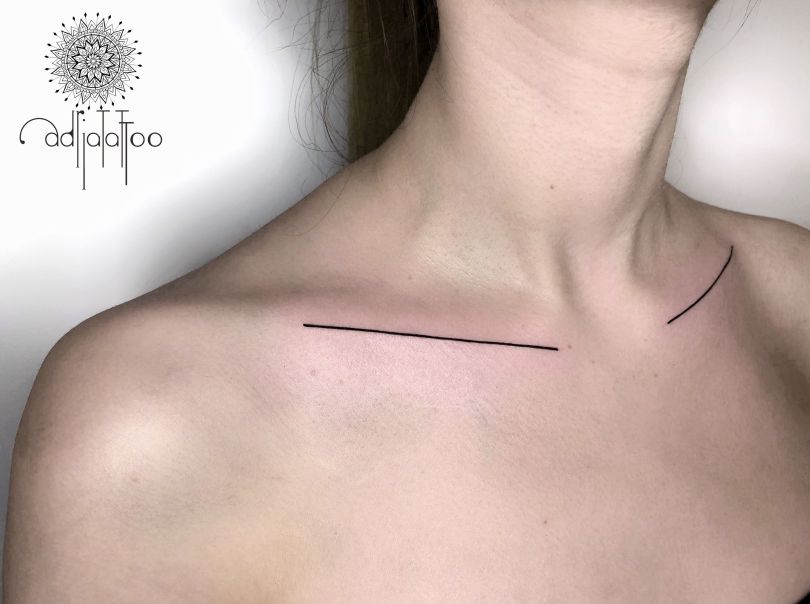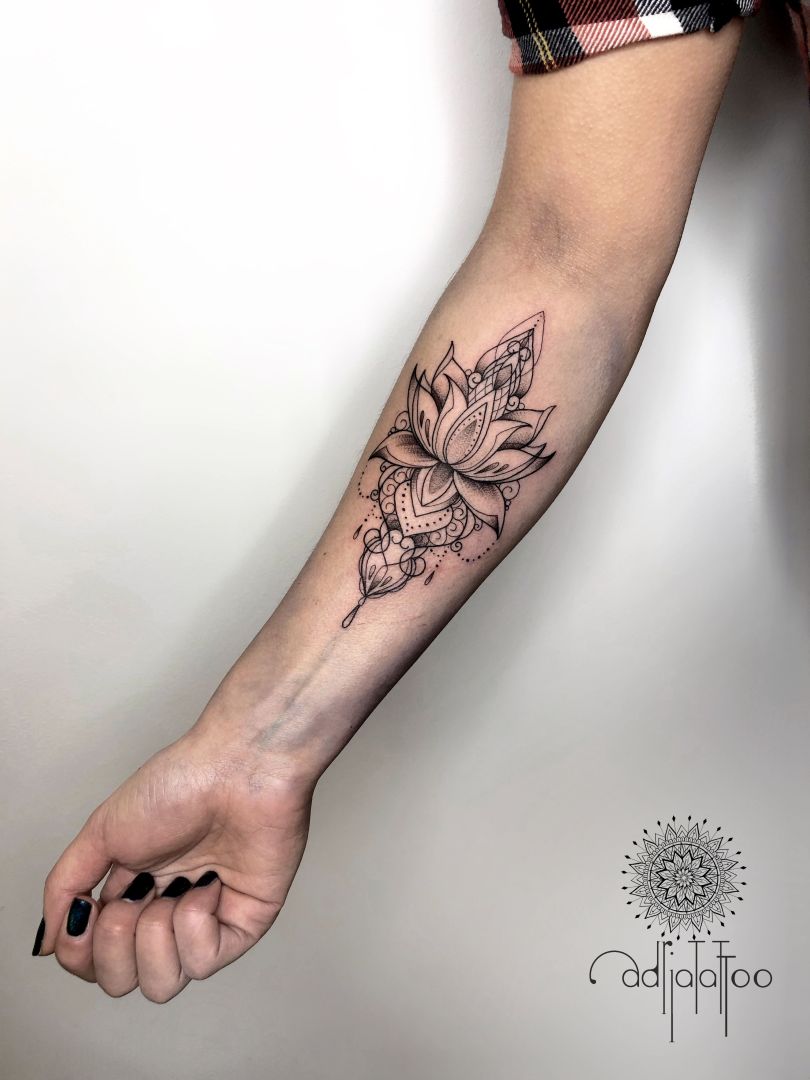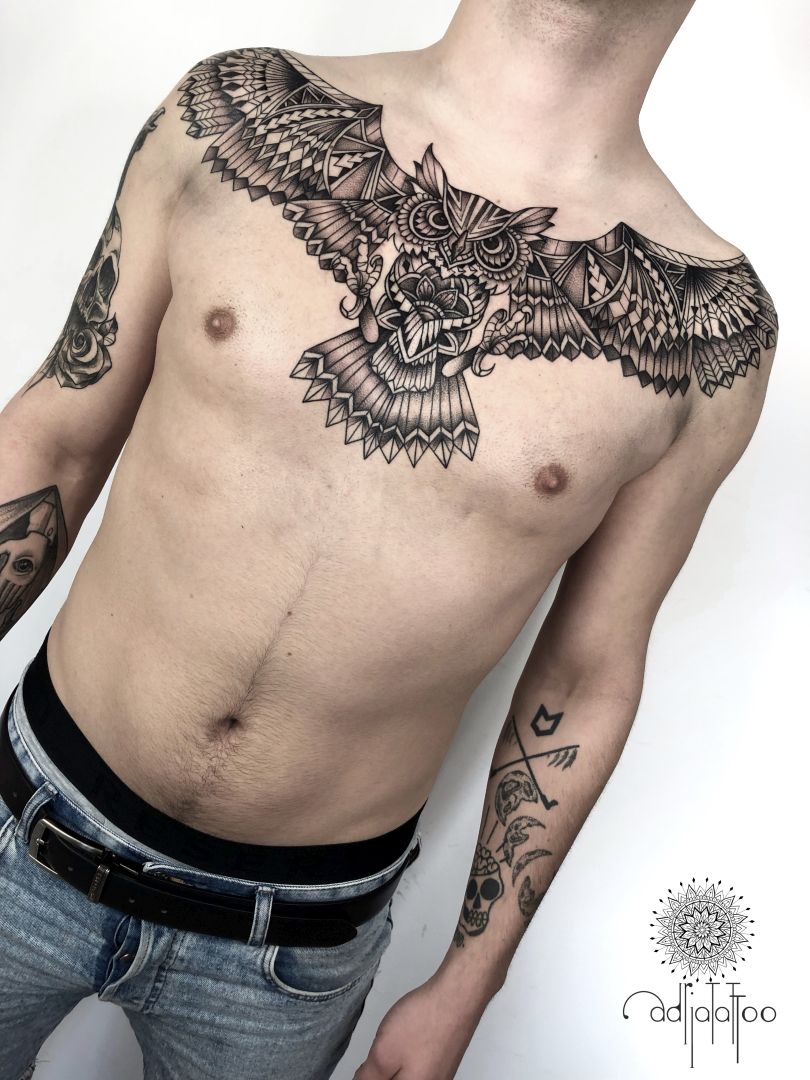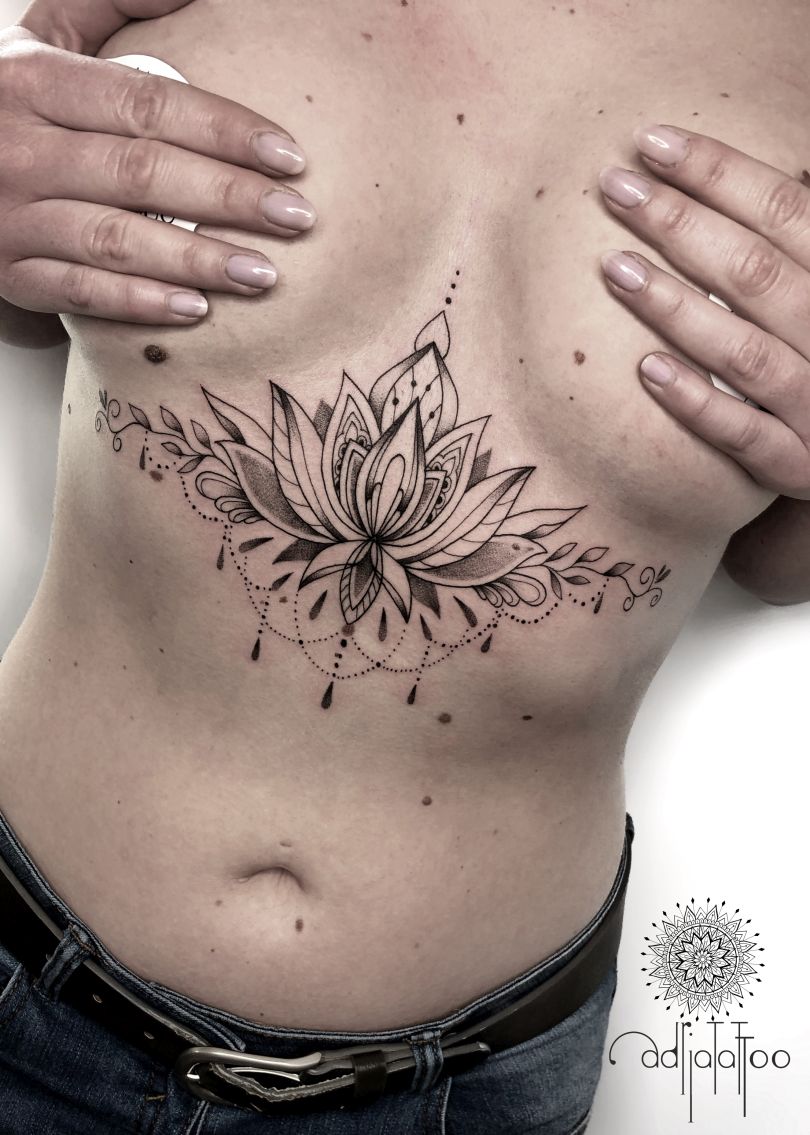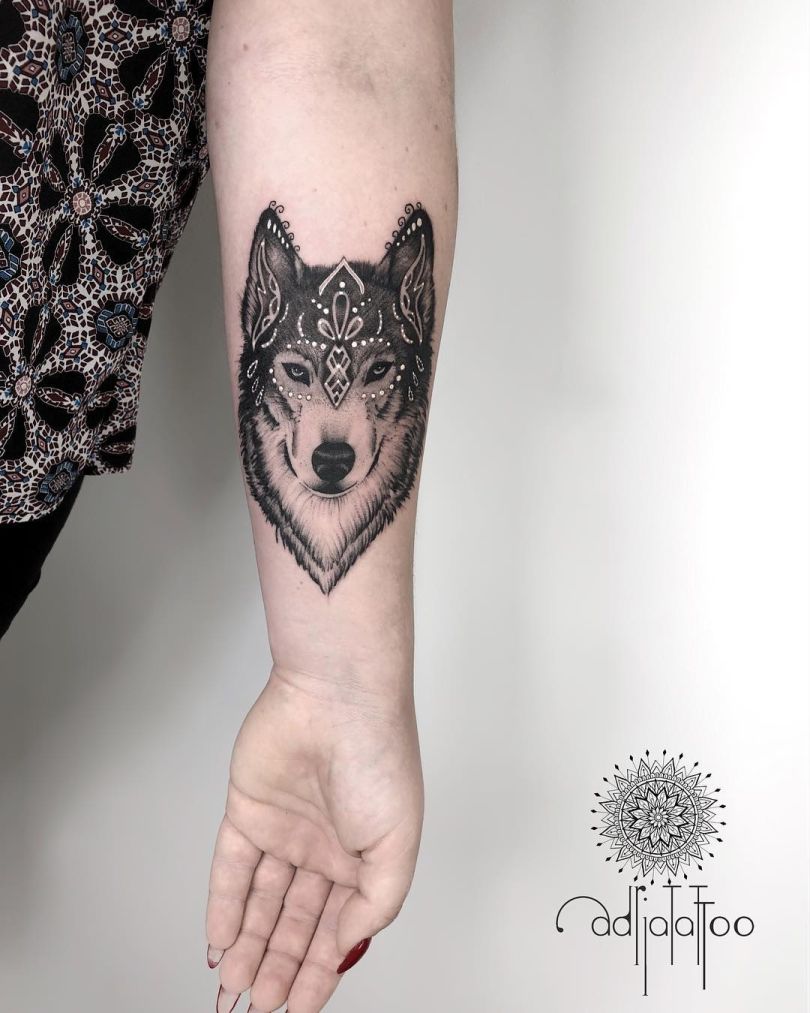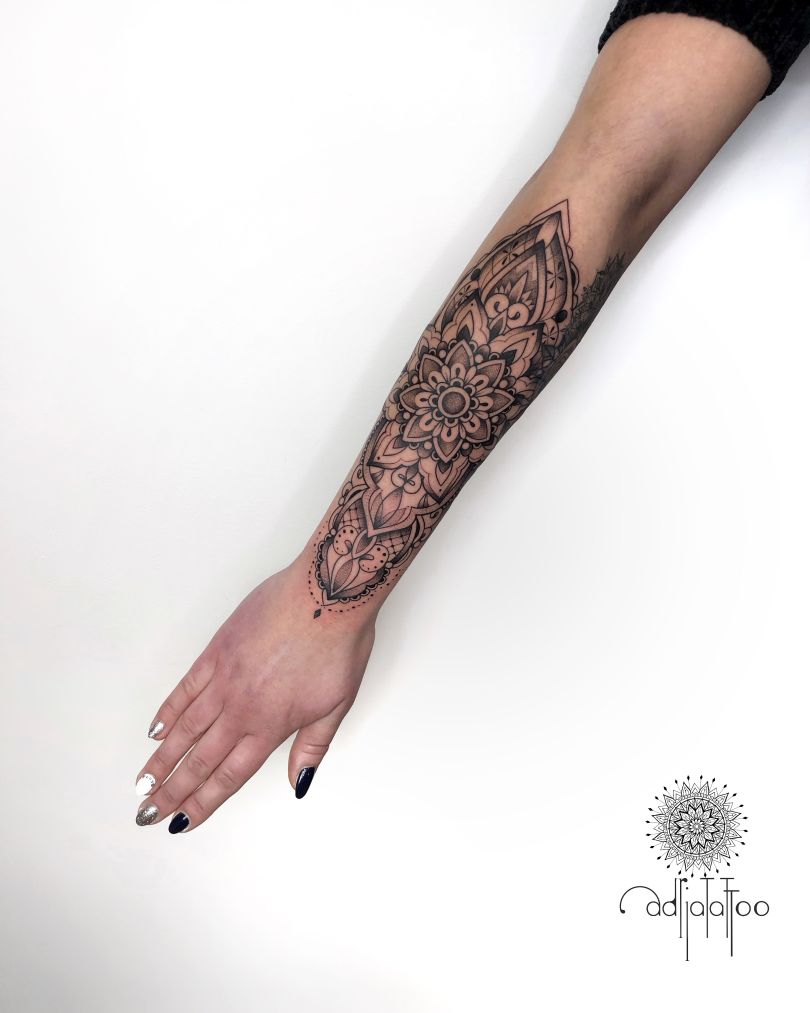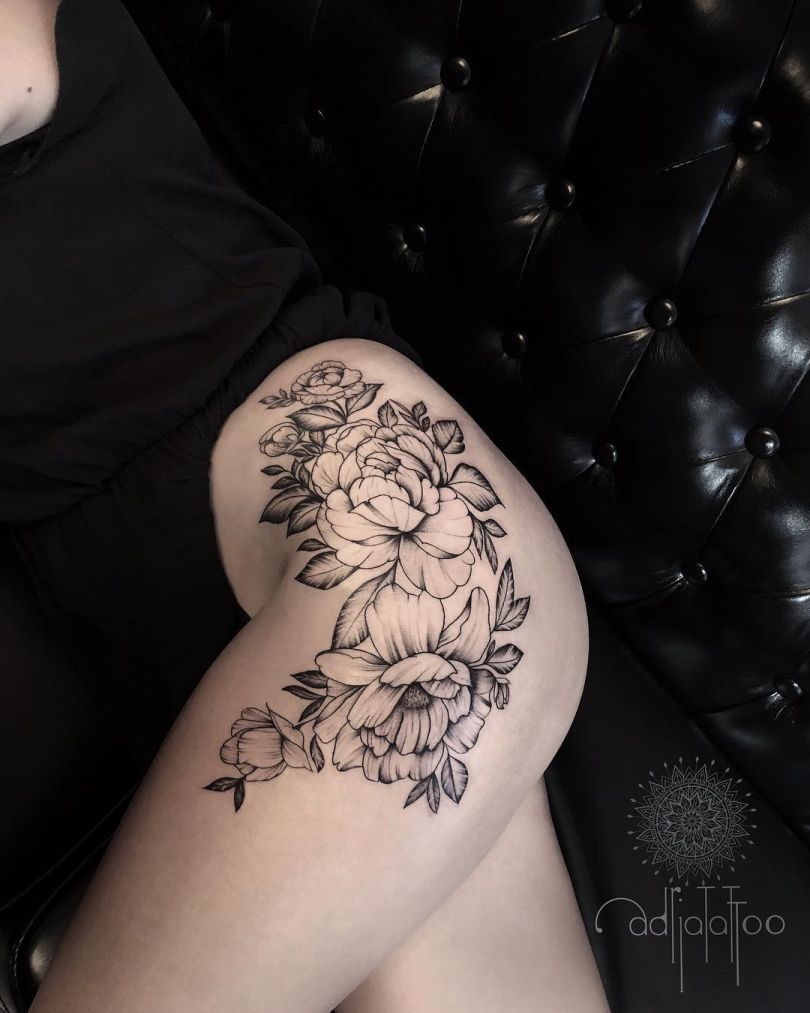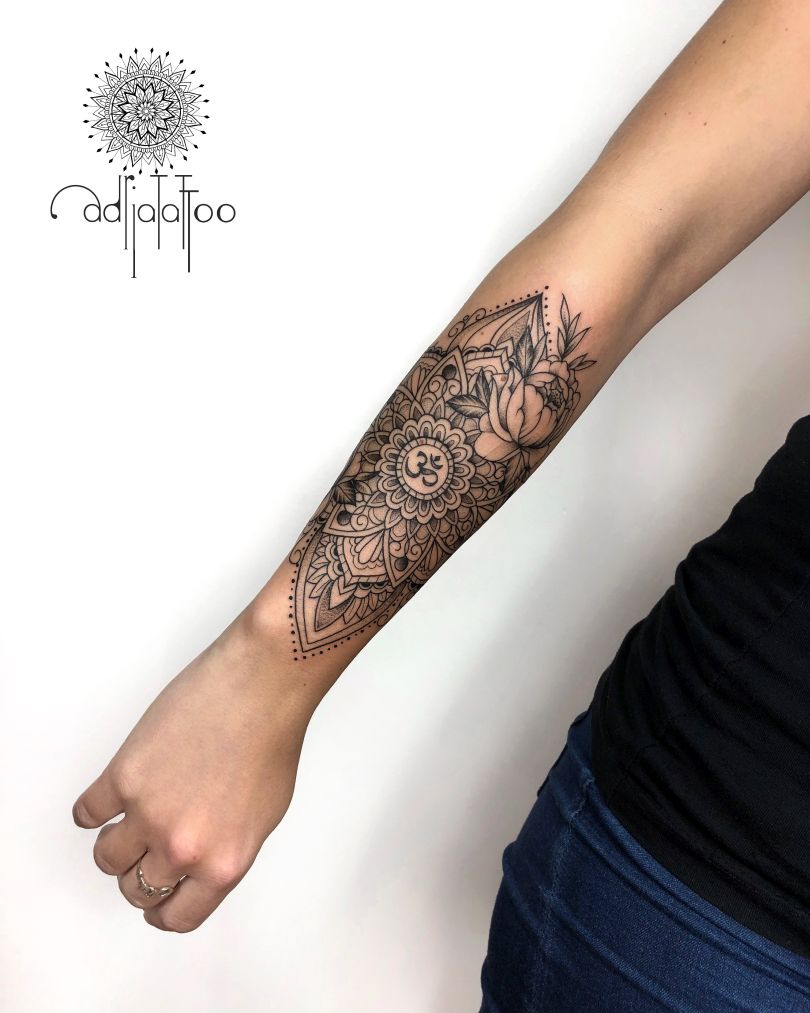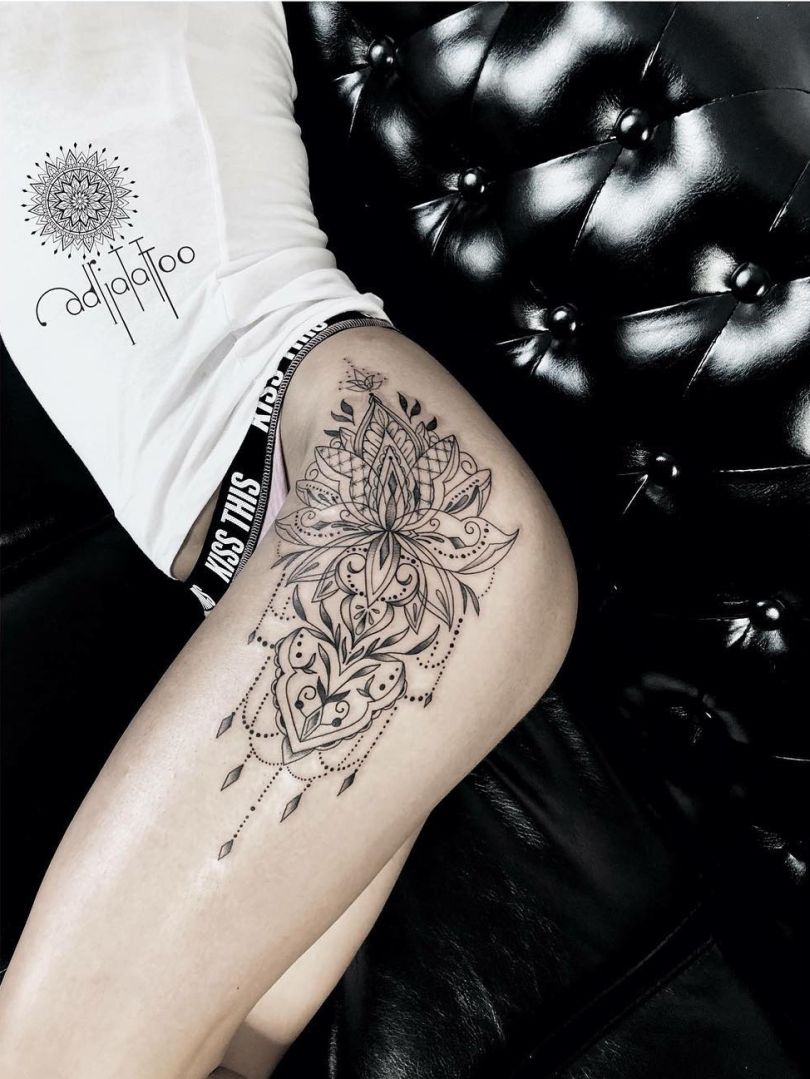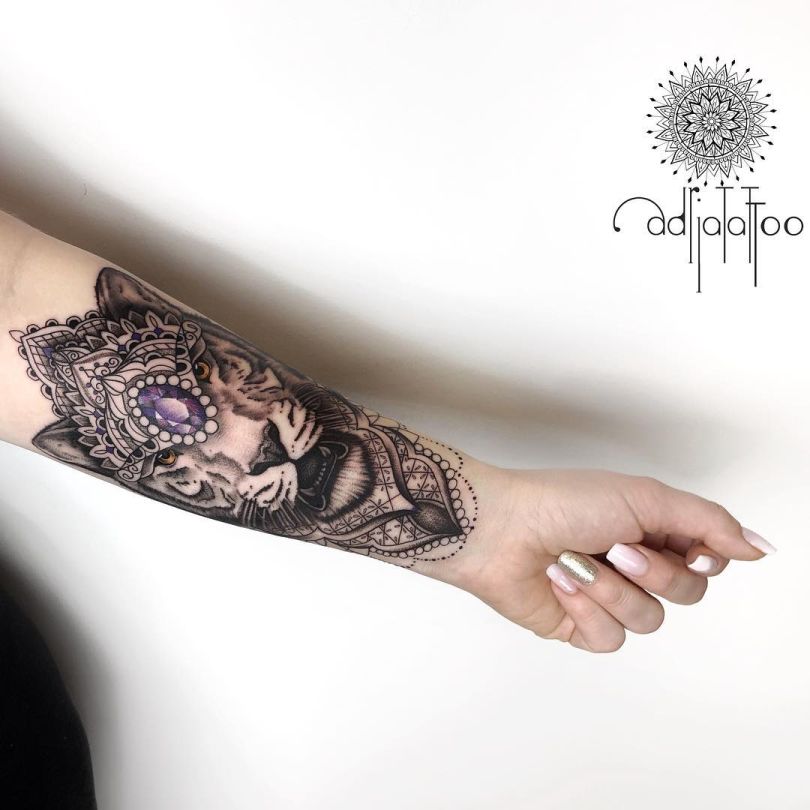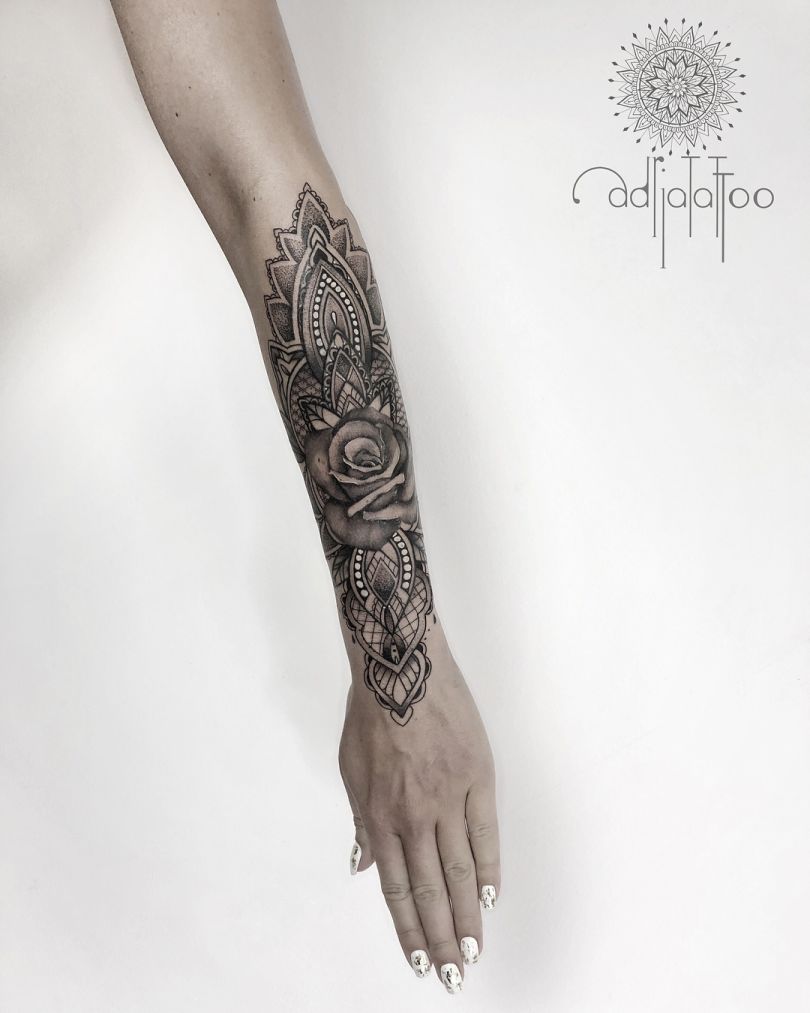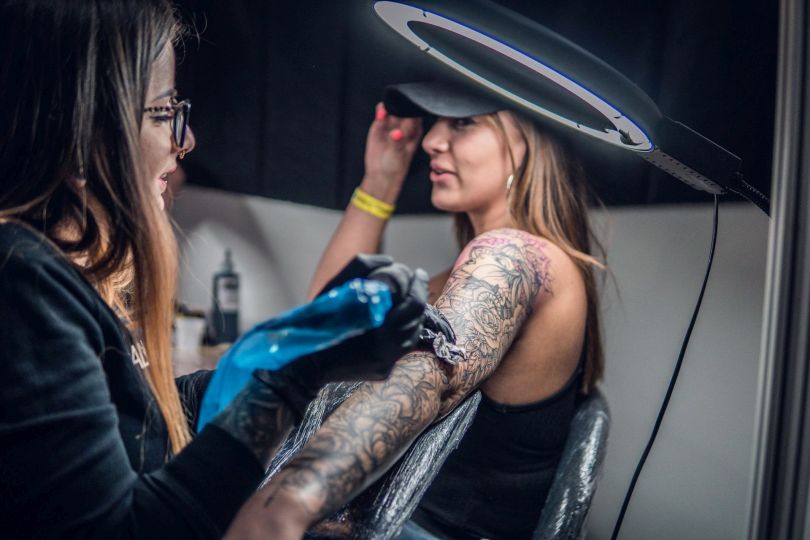 photo © adria.tattoo
If you want to taste again the bittersweet pain of the tattooists needle and you're in search of awesome tattoo ideas, we have a plethora of epic ink for your inspiration:
• State-of-the-art Fine Line Realistic Tattoos by Zlata Kolomoyskaya
• Feed Your Avo Obsession with These Creative Avocado Tattoos
• Realistic Tattoos with Morphing Effects by Benji Roketlauncha
• Bumpkin Tattoo Studio, a Great Place to Get Colorful, Cartoonish Tattoos
• 50 Meaningful and Beautiful Sun and Moon Tattoos